One for the Ages!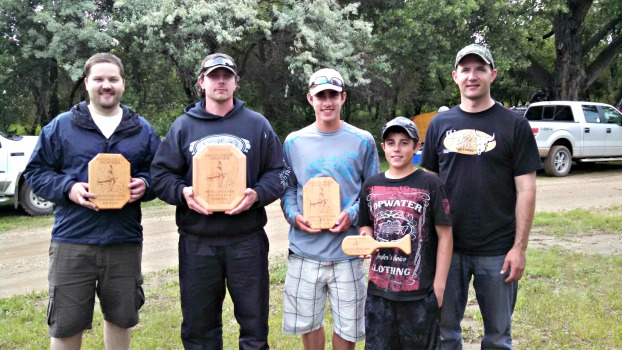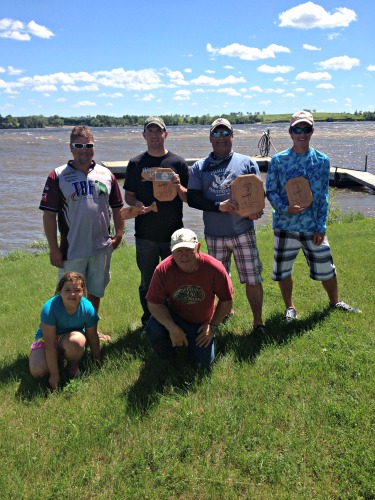 This year's club camping weekend was certainly one that many Bass Bandits will remember for the rest of their lives. The weather that we have had for the summer of 2014 has been a rollercoaster ride across the state of North Dakota. It was only a matter of time that it would land on weekend the Bandits had a tournament, unfortunately it was a weekend that we held 2 tournaments.
On Saturday the Bandits were set to fish one of North Dakota's little gem's called Sheep's Creek Dam. The name of that little pond ain't no joke because on our way to the lake just a few miles north were some sheep grazing out in the green fields! It was a wet soggy cool morning and the Bandits lined up at the ramp to prepare for some great largemouth bass fishing. As soon as the tournament started so did the rain, and it never quite. Throughout the whole day it rain heavily on the anglers out in the water. Luckily there was no lightning that day which made it safe to finish out the tournament. As soon as the tournament was over and the boats loaded up the sky broke, the sun shined through and the winds had calmed. Only in North Dakota you will have to wait 5 minutes for the weather to change. The tournament catches weren't heavy weights but the gossip amongst the anglers was that the bass bit well throughout the day. Fishing in his first Bass Bandit tournament was Jessie Wood of Hazen, ND. Jessie took home top honors for the day by weighing 7.33 lbs. His son Hunter Wood took home the cash pot prize as well as the Big Bass Award by weighing in a 4.37 lb largemouth bass. Even though this would be Hunter's only catch of the day it helped him finish 5th. Chris Harvey was also new to this lake and was able to muster a nice 2nd place finish by weighing in 6.24 lbs. Having another good day to help him retain his lead at the top of the Angler of the Year race was Chase Fernandez. Chase finished 3rd by weighing in 6.18 lbs.
Once the tournament was over everyone packed up their soggy wet clothes and equipment and headed for the Lake Tschida camp grounds. If you have never been to Lake Tschida or stayed at their wonderful camping sites you are missing out. This is by far the Bandits top choice when it comes to camping areas in the state of North Dakota. They have the best friendly staff members there that offer their great hospitality. A big thanks goes out to Michelle and the gang out at Lake Tschida recreation for making our stay a great one, we appreciated everything that you did for us and look forward to next year's stay!
The club got together Saturday evening to cook up some great food, thanks to everyone who brought food and made it possible to have another successful club camping weekend. Once the food was all gone the Ladder Ball Championship began. This years Ladder Ball Champions are Cody Arth and Nate Keena. Congratulations you guys on taking home those awesome trophies that Jason Bader provides our club with each and every year.
Sunday morning rolled around and the Bandits headed to the North Shore boat ramp. The winds were up and it was forecasted to get worse as the day went on. If there is one thing that meteorologists can usually get right it's the wind, and they were spot on this day. Good thing Lake Tschida provides some bays that can protect you from the wind so anglers are able to fish and enjoy some great smallmouth bass action. Coming in with his first ever Badlands Bass Bandits victory was Eric Fernandez. Eric weighed in a new club lake Tschida record of 8.89 lbs! The old record was set back in May by his son Chase. You know what they say "Like father, Like Son"! Congrats on the victory Eric as well as the new Lake Record! Coming in with a good solid day on the water was Paul Reinbold. Paul weighed in 7.06 lbs which gave him a 2nd place finish. Paul also captured the big bass award with a 2.79 lb smallmouth. Chase Fernandez added to his points lead by finishing once again in 3rd place with a weight of 5.89 lbs. Shawn Keena weighed in 5.82 lbs which propelled him to a 4th place finish and Robert Reinbold is always in the top five at Lake Tschida. Roberts weight this week was 5.81 lbs.
We were blessed to have a Junior Bass Bandit with us at Lake Tschida, Haylee Keena. Haylee landed a 1.07 lb smallmouth that helped her capture the Jr. Champion trophy. Congratulations to Haylee!
Despite the weather the Bandits had a great time and look forward to next year's Club Camping Weekend. On a side note we would like to take the time to recognize a few of our anglers. First off a big Congratulations goes out to Chase Fernandez and Hunter Wood. These two Bandit anglers teamed up this year to fish the South Dakota Bass Federation High School Championship and won it! They are now eligible to move onto the Nationals which is held in Ohio near Lake St. Claire. We hope to get all the details a little bit later on this summer and provide the public as to how this team is doing at that event. Another angler that we would like to take the time to recognize is Nate Dirks. For the past few years Nate has been a part of our club and he has been a great member. He is always willing to learn and share with others on his success to help teach us how to catch bass. Unfortunately for us Nate's last tournament with the Bandits was during the Bandits club camping weekend. Nate and his wife Nicole will be moving to Texas for military purposes. The club will definitely not be the same without Nate, thanks Nate for being such a great member and all of us here at the club house wish you and your wife the best.
As you might have noticed the Angler of the Year race is still a tight one. The Bandits next event will be on Lake Sakakawea and we will be docking from Dakota Waters. This will be new territory for a lot of club members so I am sure there will be a lot of searching going on for some big smallmouth bass. Stay tuned to this site for tournament results, points updates and of course fish stories!
Angler of the Year

#

NAME

PTS

1

Chase Fernandez
482

2

Eric Fernandez
420

3

Paul Reinbold
382

4

Hunter Wood *
377

5

Robert Reinbold
374
2014 Tournament Schedule
(CST)

Bass Library Features