Baptiste & Peirce Take Top Spot!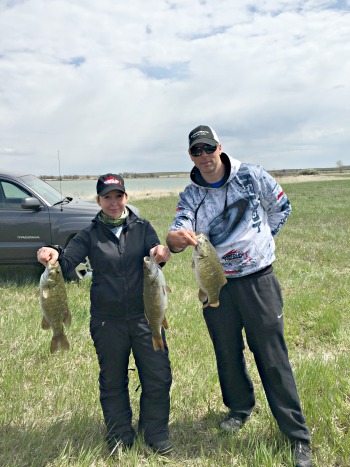 Amber Pierce and Wesley Baptiste

Wind, overnight freezing temperatures, and unpredictable smallmouth. You couldn't ask for a better way to start the tournament season. Despite the not so favorable conditions, 11 teams came to Lake Audubon-North Arm ready for an exciting blastoff with idle only speeds. After everyone finally arrived at there spots it didn't take long to start catching them. Focusing on shallow islands newcomer Amber Pierce, along with teammate Wesley Baptiste, made her first ever cast as a Bandit and it was a great one. With a 3.75lb Big Bass for the tournament on that cast, her and Wes were well on the way towards their tournament winning bag of 9.87 lbs. Local walleye juggernauts Kellen Latendresse and Kacey Krueger were on the lake to prove they could do more than just troll bottom bouncers. Thanks to a quick YouTube video on how to dropshot and with a friendly wager against member Stephen Basinger they came through in the clutch and finished second with 8.89 lbs. Coming in third and just short of winning that wager was Stephen Basinger and Dion Ferrier with 8.35 lbs.
A great tournament for everyone involved and it was very exciting to see all the new members able to make it despite the forecast.
Tournament #2 for the year is on "The Big Lake", Lake Sakakawea launching out of Buelah Bay, May 28th with Registration and rules meeting at 6:30 am. Don't forgot that if you are still in need of a partner to post on the website or Facebook and let people know.
Final Results
1: Wesley Baptiste and Amber Pierce-9.87lbs 101 points
2: Kellen Latendresse and Kacey Krueger-8.89lbs 99 points
3. Stephen Basinger and Dion Ferrier-8.35lbs 98 points
4. Joshua Johnson and Matt Franz-8.04lbs 97 points
5. Hunter Woods and Eric Vossler-7.74lbs 96 points
6. Curt Manley-7.65lbs 95 points
7. Trent Fugere and Josh Birtchet-5.95 lbs 94 points
8. Marty Mantz and Paul Reinbold-4.88lbs 93 points
9. Matt Gessner and Marcus Brown-2.93 lbs 92 points
10. Tie-Jared Sparks and Lance Zent, Corey Erickson and Denver Tergesen-no fish 50 points each

View Tournament Pictures


Next Event!


Lake Sakakawea
Beulah Bay

May 28th
7AM- 3PM (CST)
Rules & Regulations


TIME TILL BLAST-OFF!



Tournament Schedule
Date

Location

Time
(CST)


May 14

7 AM - 3PM

May 28

Lake Sakakawea (Beulah bay)


7 AM - 3 PM

June 4/5

Club Camping Weekend

4th-Lake Tschida

5th- Lake Tschida
(MLF cash pot)




7 AM - 3 PM

June 25

7 AM - 3 PM

July 23


7 AM - 3 PM

July 24

7 AM - 3 PM

August 6

Missouri River
Bismarck
(ramp location TBA)

7 AM - 3 PM

August 20

Lake Oahe
(Indian Creek bay)

7 AM - 3 PM

September 17/18

2 Day Classic Championship

7 AM - 3 PM