Reinbold Trumps Tough Classic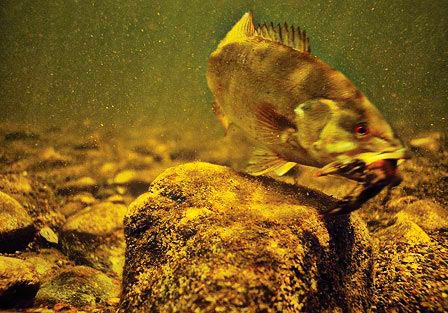 In 2008 Paul Reinbold won his first Badlands Bass Bandits Classic Championship on Lake Nelson on September 14th. On that day Reinbold also set a record low weight for winning a classic with only 6.75 lbs. This year the Bass Bandits held their annual Bass Bandit Classic Championship on Lake Sakakawea for the second straight year in a row. This was a tough event to fish and Paul Reinbold weighed in the 3rdlowest weight to win a Classic but also it was the lowest recorded weight to win the Classic since this tournament turned into a two day event. No doubt Mother nature was the culprit to blame because she has been relentless on throwing cold fronts in North Dakota during the weekend. The weather was windy, cloudy and cold from Thursday afternoon all the way through Sunday. This not only made it a tough event to fish but boating around the lake was difficult and many anglers didn't have much choice as to where they were going to fish.
On day one of the Classic the Bandits launched out of Beulah bay. A few anglers went North and some went east but most of them stayed in Beulah bay due to the rough waters. Going across the lake heading north the waves weren't too bad in the morning but coming back for the weigh in it was a different story. After everyone made it back to the ramp safely the weigh-in was started. Leading after day one was hot hand Nate Dirks of Minot. Nate had a great season fishing for smallmouth and it was no surprise that he brought in the heaviest bag for day one. Nates total weight for day one was 5.03 lbs, he also weighed in the heaviest smallmouth for the two day tournament at 3.11 lbs. Sitting in second place was Paul Reinbold with 4.17 lbs and third place was Janine Wetzel with 3.59 lbs.
On Day two of the tournament the Bandits launched out of the State Park near Pick City. This is a large bay that provided lots of fishing as well as protection for the high winds. When the flag was dropped the bandits raced out of the bay in search of smallmouth bass. It was a bit warmer on Day two and the wind had switched directions allowing anglers to travel a lot farther than Day one. However, the anglers knew that the winds were going to pick up later in the morning so they raced to their spots in hopes to catch a quick limit. When 2 o'clock came the Bandits loaded up their boats to weigh in their fish. Coming in with the day's heaviest weight was Paul Reinbold with 4.15 lbs. Paul won the event with a combined two day total weight of 8.32 lbs. Certainly not the weight one would expect when coming to Lake Sakakawea but when the conditions are bad one must catch the right fish to win no matter how big or small. Chase Fernandez brought in 4.06 lbs for day two to add to his total weight of 6.07 lbs. Chase also finished 2nd in the Angler of the Year title only to miss out by 3 points! Great season Chase! Weighing with a total weight of 5.62 was day one leader Nate Dirks who finished 3rd in this event.
After the 2013 Classic Champion was crowned the Bandits had their annual end of the year awards to hand out. Perhaps the most important award amongst all of them was the Angler of the Year title. This years winner was Matt Sullivan of Bismark. Matt fished tough all season long and to win this event you must be consistent. Especially when you have young gun Chase Fernandez chasing you all season long! Great job on a season well done Matt and as for Chase placing second I am sure he will be back for another go at it next year! The Biggest Largemouth of the year award went to Matt Sullivan that weighed 5.23 lbs he also won the Biggest Smallmouth of the year award with a 4.42 lb dandy. The 2013 Rookie of the Year was Beth Basinger of Minot, ND. Beth fished hard all season long and pretty much kept a safe cushion between her and the other rookies this season. Congratulations Beth and remember you plaque is way nicer than Steve's! The Mixed Bag award (angler with a combination of smallmouth and largemouth) was Cody Arth that weighed 8.49 lbs. The 2013 Horizon Awards winners were Matt Sullivan and Chase Fernandez (go figure!). The Horizon award is awarded to the angler who improved the most from the previous year. This award is determined by the average weight per tournament compared to last year's average and the angler with the largest improvement wins the award. Winning the 2013 Big Bass Challenge was Paul Reinbold with a combined length of a 21 inch largemouth and a 15 inch smallmouth for a total of 36 inches. Paul won a rod and reel combo for this contest. Paul also a donated rod from Denali rods which was given to the winner of the classic. The rest of the top 10 anglers of the classic received a 40% off coupon from Denali!
It certainly was a great year, and we are all looking forward to continuing this club's legacy next year. We will be holding our annual club meeting on October 19th at the old governor's mansion. If you are interested in joining please come to this event so we can meet you. We would like to thank our sponsors for making it such a great year; Whiskey River Baits, Denali Rods, Dakota Tackle, Crazy D'Construction, Capital City rain gutters, and Geo's Corner of Lemmon, SD. Without you none of this would be possible!
Angler of the Year

#

NAME

PTS

1

Matt Sullivan
85

2

Chase Fernandez
82

3

Marty Mantz
74

4

Nate Dirks
67

5

Paul Reinbold
53
Rookie of the Year

#

NAME

PTS

1

Basinger, Beth
49

2

Dirks, Nicole
34

3

John Hill
27

4

Lugibihl, Zach / Murdock, Johnny Cole
10

5

Kenneberg, Luke
8
2013 Tournament Schedule
All times are in Mountain time*