A Frigid Ice Bowl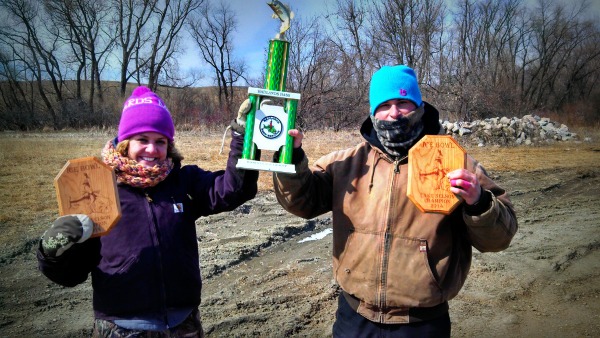 Kayci & Eric Ice bowl Champions!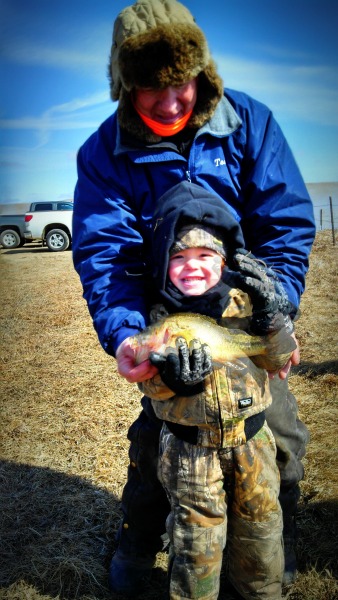 Hayden & Tony

The 2014 Badlands Bass Bandits Ice bowl is in the books! It was the coldest Ice Bowl in club history but that didn't stop the club members from having a good time. The Bandits started out with a cloudy day driven by fog from Lake Nelson but once the sun got up a little bit higher the outside conditions became a bit more tolerable. After a few casts without strikes it was Robert Reinbold who struck first by landing the first Lake Nelson bass. From there on the Bandits started catching fish and it would continue throughout the day. The action wasn't fast and furious but it seemed that someone was reeling in a fish about every 5 to 10 minutes. The average size of fish being caught was 14 inches with the occasional 15 to 16 inch bass. It certainly wasn't a day for big ones biting but you never heard anyone complain since we were all finally able to get out of the house and break some cabin fever.
In order to win the Ice Bowl a 2 person team must catch the 6 largest bass during the contest, this is determined by length of a bass rather than by weight. This year's 4th place team went to Tony Reinbold and Luke Kenneberg with a total length of 74 inches. Jason Bader and Mason Dietrich best six was good enough for a 3rd place finish totaling 76 inches. Paul and Robert Reinbold brought home 2nd place honors with a 87.25 inch effort. Taking home the 1st place prize was Eric Vossler and Kayce Ehli of Bismarck. Word has it that they struggled throughout the day without any bites until the last hour of the day. Perhaps the key fish was the 18 incher that was caught by Eric Vossler to help propel them past Team Reinbold. Congrats Eric and Kayce!
Well that about sums it up for the 2014 Ice Bowl I'm sure next year will be another great time had by all but I can guarantee we here at the club house are looking forward to warm weather and the start of the 2014 BBB tournament season! If you would like to become a club member please view our membership page as well as contact one of our club officers for any questions that you may have. Don't forget our 2014 season is upon us and will start the first weekend in May at Lake Nelson!
Monster Bass!
Check out the 2013 Photo Gallery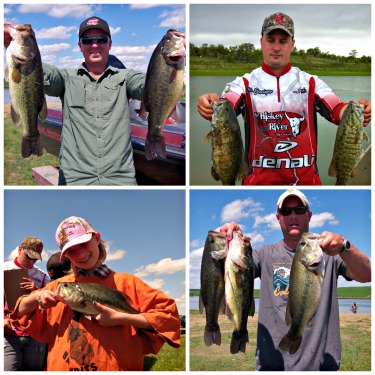 2014 Tournament Schedule

Date

Location

Time

May 3rd

6-AM - 2PM

May 24th

6 AM - 2 PM

June 7th


6 AM - 2 PM

June 28th

6 AM - 2 PM

June 29th

Lake Tschida
North Shore Boat Ramp
Club Camping Weekend


6 AM - 2 PM

August 2nd


6 AM - 2 PM

September 6th

Missouri River
Docking from Misty Waters



6 AM - 2 PM

October 4th & 5th


6 AM - 2 PM
Bass Library Features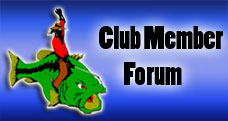 Read the latest article in the Bass Library!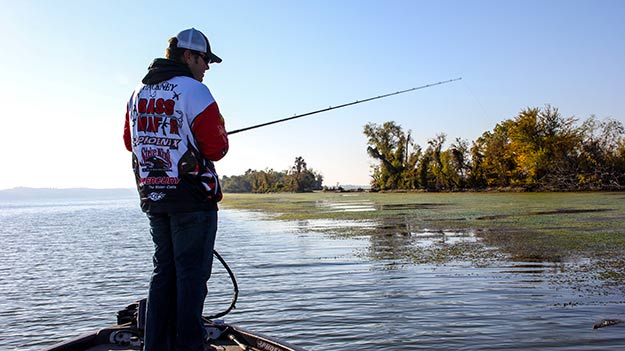 Knock 'em out with the Punch Rig

Club Sponsors