Chase for the Angler of the Year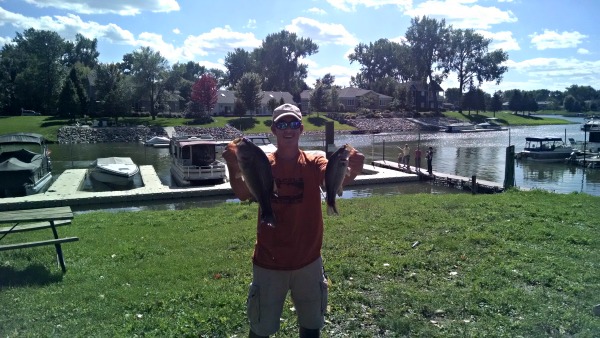 Chase Fernandez with some nice Missouri River largemouth!

The Angler of the Year race has been deadlocked between two anglers. Chase Fernandez had the tournament he needed to close the 3 point gap that Paul Reinbold had going into the 7th Bandits tournament of the 2014 season. This was the first time in many years that the Bandits had fished the Missouri river and it turned out better than most expected. The upper portion of the Missouri River is located in Bismarck and it offers a completely different style of fishing as well as conditions. On Saturday the Bandits faced heavy water current along with miles of sandbars, paired up with a full moon and post front conditions. On paper it certainly would spell disaster but the Bandits pulled together and put on a great tournament. Getting the finish that he needed heading into the last tournament of the year Chase Fernandez took home 1st place prize. With only 10 minutes into the start of the tournament Chase boated a 4.03 lb largemouth, this bass also won Big Bass honors. Chase's final 3 fish limit weighed in at 6.40 lbs. Making a late surge in the tournament, Tony Reinbold was able to put two fish in the boat that weighed 5.22 lbs which gave him a 2nd place finish. Tony's big bass of the day was a largemouth that weighed in at 3.43 lbs. Bringing in a nice 3 fish limit was Johnathan Campbell of Bismarck who caught his fish in the early part of the day. Johnathan's limit was good enough for a strong 3rd place finish that weighed 4.41 lbs.
It certainly wasn't the largest number of Bandits that showed up for this tournament but perhaps next year more will show up since the trailblazers of this year proved that the Missouri River has good bass fishing to offer. The Bandits next tournament is on New Johns Lake and we will be docking out of East Park's main ramp. This will be the 2014 Badlands Bass Bandits Classic Championship. This is the main event that all Bandits look forward to each year in hopes of hoisting that iconic Bandits Classic Championship Trophy! This will certainly be an interesting one because we have two anglers locked in a tie for the AOY, so the question is will they fish for the win of the Classic or fish conservative for a high fininsh in hopes to be crowned 2014 AOY, or perhaps they will both bust and someone else will slip in for both titles! Who knows, it has been a great year and we all look forward to our last tournament of this season. Stay tuned to this site to catch all the exciting action!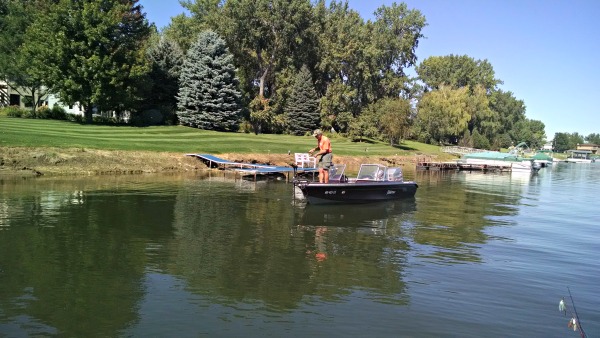 Missouri River September 6th 2014

| ANGLER NAME: | # OF FISH | BIG BASS | LMB/SMB | TOTAL WGT | DOA | FINAL WGT | PLACE | POINTS |
| --- | --- | --- | --- | --- | --- | --- | --- | --- |
| Chase Fernandez | 3 | 4.03 | | | | 6.4 | 1 | 100 |
| Tony Reinbold | 3 | 3.43 | | | | 5.22 | 2 | 99 |
| Johnathan Campbell | 3 | | | | | 4.41 | 3 | 98 |
| Paul Reinbold | 3 | | | | | 4.29 | 4 | 97 |
| Cody Arth | 2 | | | | | 2.72 | 5 | 96 |
| Jeff Wetzel | 2 | | | | | 1.94 | 6 | 95 |
| Eric Vossler | 1 | | | | | 1.67 | 7 | 94 |
| Justin Plath | 0 | | | | | 0 | 8 | 50 |
| Kayce Ehli | 0 | | | | | 0 | 8 | 50 |
| Eric Fernandez | 0 | | | | | 0 | 8 | 50 |
Tournament Pictures