Boldt wins Pudwell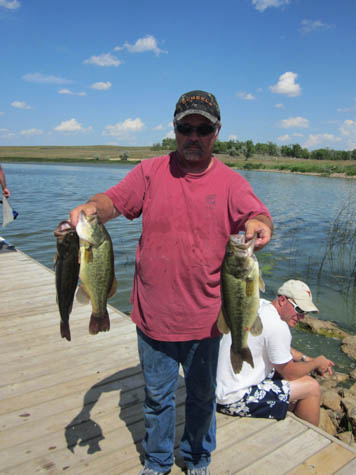 Well it was predicted to be a scorcher during the Bandits trip down to South Dakota for a weekend of fishing at Lake Oahe and Pudwell Dam, and for once the weather man was right. With temps in the high 90's as well as dipping into the century mark the hot weather proved to be a challenge for the anglers as well as the fish themselves. The past six weeks have been very hot across the Dakota's with very little rain fall. This long heat wave has put the fish in a negative mood, a mood that makes tournament fishing difficult. None-the-less the Bandits put on the SPF 100 sunscreen, packed more water than food in their coolers, dressed for the hot weather and met up with each other at the boat ramp on Lake Oahe for Saturday's event. It was a cool breezy morning to start the day, the bandits drew for the boat launch order and off they went. Many went north but most of them stuck around the bridge area near Mobridge in search of the BIG smallies that lake Oahe has to offer. Unfortunately due to the relentless hot weather the "Big" smallies never really showed up.
Two years ago a long run from Beaver Creek, ND all the way to Mobridge, SD (approx. 60 mi one way) payed off for Marty Mantz and Matt Sullivan. Once again Lake Oahe was kind to those two anglers again which prevented the hometown boys from cleaning house. Coming in with a total weight of 7.56lbs and big bass honors of 3.01lbs was Marty Mantz. This gave Mantz another 1st place finish on Lake Oahe. Matt Sullivan followed up with another Lake Oahe 2nd place finish with a total weight of 5.86lbs. The Wetzel's....a.k.a "The Consistants" are on a roll still by finishing strong once again. Janine Wetzel took a 3rd place finish with a total weight of 5.60 lbs and her hubby Jeff followed up nicely with a 4th place finish with a total weigh of 5.41lbs. Wow talk about a close battle in a single boat! Tony Reinbold (one of the hometown boys) was able to catch 2 nice smallmouths for a total weight of 2.47lbs which was good enough to give him a nice top 5 finish. We had a great Junior Championship turnout this weekend. The Schutts from Iowa visited the Bass Bandits this weekend. Sara Schutt was the top Junior angler for the Mobridge tournament by weighing in a smallmouth that tipped the scales at 1.71lbs! Way to go Sara.
All in all it was a long day for a lot of Bandits but thats how it goes sometimes if fishing would be easy it would be called Catching! After the tournament was over the Bandits held a short meeting in regards to Pudwell dam (Sunday's event location). Once the meeting was over the Bandits headed to the camp grounds and restaurants to get in some relaxation after a long day of S L O W fishing.
Sunday morning rolled around and it was FOGGY. The Bandits had to take extra precaution traveling to Pudwell Dam for Sunday's event. The boats were unloaded the chips were drawed and they were off...sort of. Due to the heavy morning fog the bandits did a "idle speed" only until the fog lifted. It was a calm, muggy, hot, foggy morning and the lake water was green due to the big algae growth from the hot temps. Many feared a slow fishing day but even with all of those negative factors Pudwell Dam actually produced a good number of bass. Last years champion Paul Reinbold was trying to reclaim the trophy again on his favorite lake knowing that it would be tough with the conditions as well as the good anglers that he was competing against. Jay Boldt of Isabel, SD came in with the three largest bass of the day to take a 1st place finish with a final weight of 9.59lbs. It was only fitting that Boldt won this event due to the long history of Reinbold and Boldt battling it out on Pudwell dam. (a friendly battle of course :) Not to be out done totally on his old stomping grounds was Paul Reinbold who finished 2nd with a final weight of 8.14lbs. Reinbold also took big bass honors with a 4.03lbs. Coming in with strong 3rd place finish was Tony Reinbold with a total weight of 7.45lbs, Tony just missed the big bass mark by 2 one hundreths of an ounce with a 4.01lb largemouth! (sorry pops maybe next time). And of course we wouldn't be writing a true Bandit article without mention one of "the consitants" and that would be Mr. Jeff Wetzel of Mandan, ND. Wetzel took 4th place with a final total weight of 7.35lbs! Fishing in his first year as a Bandit as well as a first time fishing in SD was Steve Basinger (no relation to Kim) of Minot, ND. Basinger weighed in a final weight of 6.43lbs which propelled him to a strong 5th place finish. Way to go Steve! Our top Junior angler for this event was Tyler Schutt of Iowa. His final weight was 5.23lbs which just edged his big brother Eric Schutt who weighed in at 4.22lbs. A 3rd place finish went to Sara Schutt with a final weight of .155lbs. Great Job Junior anglers!
The next stop for the Bandits on the 2012 tour will be on August 18th at Sheeps Creek dam and August 19th at Lake Tschida. This will be the Bandits official Annual Club Camping Weekend. So bring food for our potluck supper on August 18th and get ready to battle it out for the Ladder Ball Championships! If ya wanna win that Championship ya better get lucky and draw a Wetzel teammate because every year one of them takes home the championship trophy! See you all there!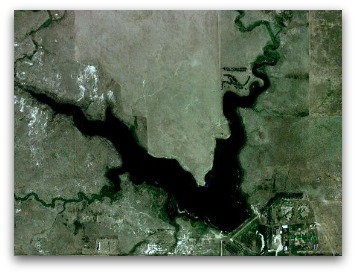 Pudwell Dam July 22nd 2012

| | | | |
| --- | --- | --- | --- |
| | NAME | TOTAL WEIGHT | POINTS |
| 1 | Boldt, Jay | 9.59lbs | 10 |
| 2 | Reinbold, Paul | 8.14lbs | 9+1=10 |
| 3 | Reibold, Tony | 7.45lbs | 8 |
| 4 | Wetzel, Jeff | 7.35lbs | 7 |
| 5 | Basinger, Steve | 6.43lbs | 6 |

Only top 5 listed. Click below for FULL RESULTS
Tournament Pictures
| | |
| --- | --- |
| Jay Boldt | Paul Reinbold |
| Jeff Wetzel | Steve Basinger |
| Chase Fernandez | Eric Ehn |
| Eric Schutt | Eric Vossler |
| Praire Grate | Shawn Keena |
| Tyler Schutt | |
| | |
| | |
| | |
| | |
| | |
| | |