Geo's Corner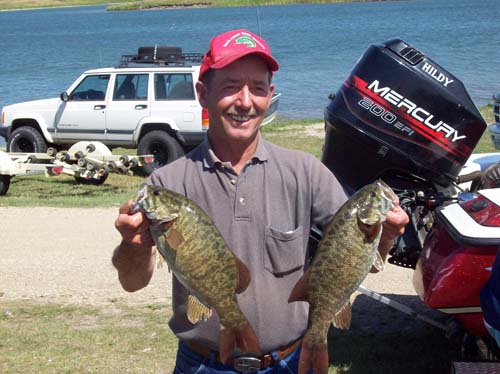 Geo Wentz with 2 nice Smallmouth Bass

It was a beautiful early morning day, the crisp air cooled the warm waters of New Johns Lake causing a slight fog above the water's surface. The bass bandits prepared their boats, rigged their rods and reels with lures that gave them hope and a chance to win. Except this time the hope was larger and the chance was just as big since it was the last tournament before the annual Classic Championship weekend. Many club members were preparing for this tournament for days, prepping and planning to make sure every detail was done to perfection. The tournament had a great showing of members on Saturday eager to get out and catch some monster smallmouth and largemouth that New Johns lake had to offer.
There was one particular angler that had the smallmouth bass lake address dialed in on his boat. Geo Wentz of Lemmon, South Dakota is no stranger to this lake. He has finished in the top three places before back in the 2008 season. This time it just seemed fitting for a good angler such as Geo to bring in a whopper of a catch. That is exactly what he did, Geo set a New Johns lake club record by weighing in a 3 fish limit that broke the scales at 8.76 lbs, beating the old record by more than a half of a pound! Wentz also took home big bass honors of the tournament with a smallmouth bass that weighed 3.63lbs. Bringing home another 3 fish limit was bass angler Jason Bader of Bismarck, ND. Jason had a good day on the water as well, especially getting to fish with the "Frog Man" in his Ranger bass boat. There were a couple of good ones that got away from Jason that may have changed the outcome of the tournament, but none the less his 3 fish limit was good for a 2nd place finish with a total weight of 6.60lbs. This was Jason's best finish as a club member, who captured the Horizon Award for the 2008 season last year.
Of course, you can't count out the "Frog Man" aka Terry Piper, Terry has showed the bandits time and time again that the top water lures are always effective. He brought in two smallmouth bass that weighed 4.73 lbs, which was good enough for a third place finish. Congratulations to all of our club members for a job well done at this event, especially to our top three finishers. Our next and final stop for the 2009 season will be held at Nelson Lake on September 12th for our annual Classic Championship! This tournament will not only decide the 2009 Classic Champion but it will also conclude our Angler of the Year race, Rookie of the Year race and other awards. Don't miss it!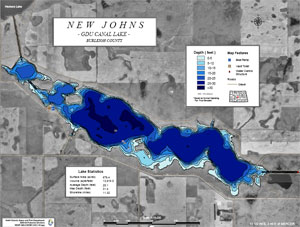 New Johns August 22nd 2009

| | | | |
| --- | --- | --- | --- |
| | NAME | WEIGHT | # OF FISH |
| 1 | Geo Wentz | 8.76 lbs | |
| 2 | Jason Bader | 6.60 lbs | |
| 3 | Terry Piper | 4.73 lbs | |
| 4 | Jeff Wetzel | 3.12 lbs | |
| 5 | Levi Long | 2.88 lbs | |
| 6 | Marty Mantz | 2.02 lbs | |
| 7 | Paul Reinbold | 1.53 lbs | |
| 8 | Janine Wetzel | 1.02 lbs | |
| 7 | Dick Roland | 0.99 lbs | |
| BB | Geo Wentz | | |

Final Results
Tournament Pictures